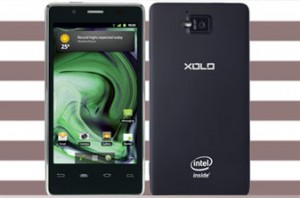 India-based cellphone maker Lava International has launched world's first Intel's Atom processor based smartphone Xolo X900.
Announced at the Mobile World Congress in Spain in February end, the feature-packed Xolo X900 has been priced at Rs 22,000. Intel now plans to launch a number of other Atom-based smartphones in partnership with Motorola, Lenovo, Orange and ZTE beginning later this year, all of which will run on Google Android.
Lava Xolo X900 is based on Intel's smartphone reference design of Atom Z2460 micro-processor with Intel's hyper-threading technology and has a clock speed of 1.6 Ghz. This makes it the world's fastest processor in any mobile device in the world, claims Intel.
Lava Xolo X900 smartphone features 4.03-inch LCD display and an 8 megapixel rear camera. There's also a front-facing camera for video chat. Other features include Near Field Communication ( NFC), HDMI connectivity and full 1080 HD video shoot and playback. Lava also promises a good battery life of up to five hours of 3G browsing, 45 hours of audio and 8 hours of talk-time on the phone.
It promises fast browsing, multi-tasking, top-of-the-line graphics, and an intuitive user interface developed in close partnership with Intel.
Xolo X900 also supports HSPA+ and Intel's XMM 6260 Platform. The phone runs on Android 2.3 Gingerbread operating system, capable of over-the-air upgrade to Android Icre Cream Sandwich later this year.
Significantly, Intel India's engineering team in Bangalore played a major role in designing and development of Lava Xolo X900.
The launch of Xolo X90o marks Intel's entry into the smartphone business which has so far been overwhelmingly dominated by lesser-known microprocessor makers like ARM Technologies and Qualcomm, besides other players like Nvidia, Texas Instruments and Broadcom.
Lava has also entered a long-term retail partnership with Croma for promotion and sale of the XOLO X900.
"Through Xolo X900, we are happy to bring to the Indian market a device that addresses the needs of those for whom speed and performance matters. After our success in feature phones with over 10 million happy customers in under three years, Xolo will be a differentiated player in the fast-growing smartphone segment. The initial reviews have been very positive and independent benchmarks clearly point to the fact that when it comes to speed and performance, Xolo X900 is the gold standard," said Vishal Sehgal, co-founder and director, Lava International.
"The first smartphone with Intel inside is now available to Indian consumers," said Mike Bell, Intel corporate vice president and general manager of the mobile and communications group. "The boundaries of personal computing are expanding. As we enter the India market with our first smartphone from Lava, the device not only showcases the rich capabilities and user benefits of Intel computing, but also highlights the exciting possibilities of what's still to come."
Xolo X900 will be available for buying from Croma stores and online at Xolo.in from April 23, followed by availability in other retail chains, general trade and online stores from early May.
Source : [The Times of India]