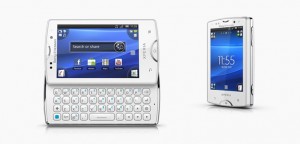 Start spreading the news. Slide out the ergonomic keyboard and start typing. The Type & Send widget lets you handle all your messages in one place. Group your favourite apps in the corners of your home screen. Then use them with one hand. Live life with the other.
– – – Specifications – – –
Model
Year Released
Form Factor
Operating System
Dimensions
Weight
Screen Size
Display Type
Battery
Bluetooth
Internal Memory
Extendable Memory
GPS
Camera/Video
Music Codecs Supported
Radio Transmitter
HD videos on an Android keyboard smartphone
Capture the volley in sharp HD. Shoot the player with the 5 megapixel auto focus camera. Getting dark? The photo flash catches those beautiful details. Now show your masterpieces in high contrast on the Reality Display with Mobile BRAVIA® Engine. Life looks brighter through an Android touch 3" scratch-resistant mineral glass screen.
[youtube]http://www.youtube.com/watch?v=waj2WFpgLro[/youtube]
Facebook everywhere in Xperia™ mini pro
Don't forget anyone's birthday. With Facebook inside Xperia you get all your friends' birthdays direct in your calendar. Share status, likes, recommendations and more from the music player and photo gallery. Instant enjoyment on your Xperia mini pro.
An Android mini smartphone for business
On the move? Synch your email and calendar on the fly with Exchange ActiveSync®. And with OfficeSuite loaded as standard on your Android mini qwerty phone, you'll look smooth over your smoothie as you prepare for that perfect pitch. With the powerful 1 GHz processor you can thumb your way through everything lightning fast.