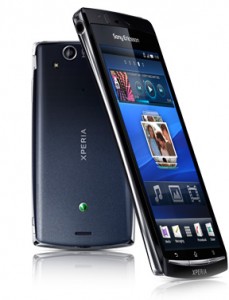 The new Sony Ericsson Xperia Arc is a large 4.2-inch full Touchscreen display Stylish Slim mobile phone with arc design .It has a high resolution 854 x 480 multitouch display with mineral glass.
It also sports 8-megapixel camera with Sony's EXMOR upscaling technology and 1GHz Qualcomm Snapdragon processor . It is running the latest Google Android OS .
Watch this review video of the Sony Ericsson Xperia Arc which was indroduced officially at CES 2011…
[youtube]http://www.youtube.com/watch?v=iKT_lpRtVdg[/youtube]
– – – Specifications – – –
Model
Year Released
Form Factor
Operating System
Dimensions
Weight
Screen Size
Display Type
Battery
Bluetooth
Internal Memory
Extendable Memory
GPS
Camera/Video
Music Codecs Supported
Radio Transmitter
Features :-
You choose – Android Market™
Going out? Finding out? Or perhaps just chilling out? Download any application you want from Android Market™ and customise your Xperia™ arc to make it exclusively yours.
Reality Display with Mobile BRAVIA® Engine
Enhanced contrast. Richer colours. Less image noise. The Reality Display with Mobile BRAVIA® Engine makes the super-wide, 4.2″, LED back-lit screen sharp and crisp. And through reduced light reflection, the picture stays clear when you're outdoors, too.
BRAVIA is a registered trademark of Sony Corporation.
Getting dark?
Dusk, dawn or just a crummy old light bulb? Sony's Exmor R™ for mobile CMOS sensor lets you capture high-quality, bright pictures and videos in poor light conditions.
Exmor R is a registered trademark of Sony Corporation.
Designed for style icons
Let your eyes go wide. The sleek curvature of the stunningly slim – just 8.7 mm – Xperia™ arc makes for a perfect palm-fit. This slender, strong and lightweight smartphone is built to make jaws drop.
Now Facebook lives inside your Xperia
Your Facebook albums pop up in your phone's gallery. Comment directly on the pictures. Share recommendations and likes from the music player. Don't miss any of your friends' birthdays or other exciting Facebook events – they are all automatically visible in your calendar. Facebook inside Xperia is developed in close cooperation with Facebook to make your entertainment truly social. You only need to sign in once to Facebook during start-up of your Xperia™ arc – and then all the magic happens.
Connect to your TV via HDMI
Connect your Xperia™ arc to your TV and cuddle up in the sofa. The HDMI connection lets you view pictures and videos from your phone on your TV screen using your TV remote control.
Powered by Android (Gingerbread)
Rich multimedia. Gaming power. Your Xperia™ arc is powered by Android (Gingerbread).
Camera power
Ready for some hard facts? Try 8.1 megapixels. Or maximum aperture of f/2.4 (in short, this means that more light reaches the image sensor). Your Xperia™ arc has the camera muscles you need to get great shots.
Timescape™ – meet your mates
Sony Ericsson Timescape™ lets all your communication with a person come together in one place. Facebook™ posts, calls, text messages – all gathered, so you don't have to open loads of different apps to see what's going on.
Your life in brilliant HD
Clips from your summer holidays. Your little baby daughter's first smile. Shoot it. In brilliant, sharp HD video with one touch of a button.
Use your headphones
Got a favourite pair of headphones? Connect them to your Xperia™ arc through the 3.5 mm audio jack.
Find the way – aGPS
You'll never get lost again. Your phone has built-in aGPS. Location-based services help you find the way to your destination. Or add location info to your images – use the geo-tagging function.
Wi-Fi connect
Connect the quick and easy way. On the move. In cafés. At the airport. Your Xperia™ arc has Wi-Fi support.
FM Radio
There's music in the air – just tune in and enjoy. Your phone has a built-in stereo FM radio.