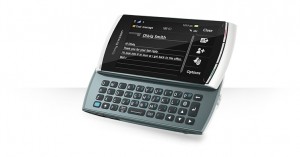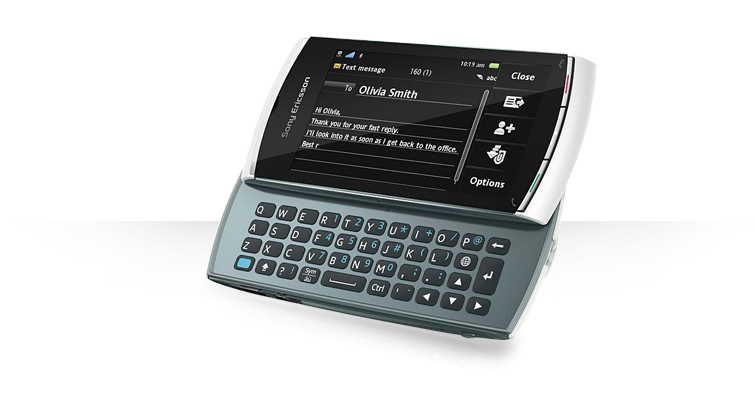 The Sony Ericsson Vivaz Pro is the QWERTY version of the Vivaz. Although the Pro edition packs a full keyboard , it packs only a 5MP Camera as opposed to the 8MP found in the Vivaz. Both offer 720p HD video recording though.
Vivaz PRO is available in black and white. The price in India is around Rs. 24500.
Watch this video to get first hand impressions of the Sony Ericsson Vivaz pro, the Symbian OS 5th Edition powered smartphone of the Entertainment Unlimited series….
[youtube]http://www.youtube.com/watch?v=V7g_pnelMQo[/youtube]
– – – Specifications – – –
Model
Year Released
Form Factor
Operating System
Dimensions
Weight
Screen Size
Display Type
Battery
Bluetooth
Internal Memory
Extendable Memory
GPS
Camera/Video
Music Codecs Supported
Radio Transmitter
Features :-
Your life in brilliant HD
Clips from your summer holidays. Your little baby daughter's first smile. Shoot it. In brilliant, sharp HD video with one touch of a button.
Windows 7 compatible
Want to see what Windows 7 Device Stage™ has to offer? Grab a USB cable and connect your Vivaz™ pro to a PC. Enjoy easy access to Media Go. Discover tools that help you make the most of your creativity. Or just relax and let yourself be entertained.
YouTube™ compatible
Watch your favourite clips over and over again. And when that funny moment you just caught on video deserves a wider audience, upload it for all to see. Your phone is fully YouTube™ compatible.
Touch UI
The touch user interface makes navigation truly intuitive – whether you're browsing the media menu, adjusting your camera settings or playing music.
Find the way – aGPS
You'll never get lost again. Your phone has built-in aGPS. Location-based services like Google Maps™ and Wisepilot help you find the way to your destination. Or add location info to your images – use the geo-tagging function.
Face detection
Want the people in your photos to come out sharp and clear? With the Face detection function activated, the camera automatically finds – and focuses on – the face in your viewfinder.
Use your headphones
Got a favourite pair of headphones? Connect them to your Vivaz™ pro through the 3.5 mm audio jack.
Anything on TV tonight?
Your holiday snaps. The video from last weekend's birthday bash. Connect via TV out and voila – that big old screen in your living room just got interesting.
Drag, drop, enjoy – Media Go™
The perfect entertainment organiser – Media Go™ makes it easier than ever before to bring your media with you, wherever you go. Transfer your media files between your phone and PC via drag and drop. File conversion is hassle-free, too: Media Go™ automatically converts films and music files to give you the best possible quality.
Accelerometer – auto-rotate
Enjoy your pictures in portrait or landscape mode. To move between modes, simply rotate the phone and the picture follows.
In sync – Push email with ActiveSync™
Your phone keeps you in touch and in sync. Emails, Contacts and Calendar, fast and flexible synchronization according to your needs with Microsoft® Exchange ActiveSync™.
Empowered by QWERTY
Prefer typing the keyboard way? With full QWERTY, your phone lets you handle your messaging the easy way.
Transfer your old phonebook to your new phone
By setting up your old phone to sync with Sony Ericsson, you can transfer Contacts, Calendar, Notes and Bookmarks from your old phone to your new one. (It works even if your old phone is of another make.) Sony Ericsson Sync also makes it possible for you to access and manage up-to-date information in your mobile phone from the Internet – anytime, anywhere with Sony Ericsson Sync.