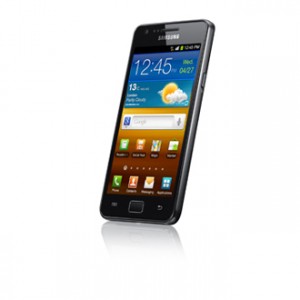 Touted to be one of the thinnest Android handset in the market, Samsung Galaxy S II was unveiled in Mobile World Congress earlier this year and is the successor of the illustrious Samsung Galaxy S.
Samsung Galaxy S II packs 4.27" inch Super AMOLED Plus display, Dual Core Processor, 8 Megapixel Camera, latest Google Android v2.3 Gingerbread OS and HSPA+ (21Mbps) connectivity and available at a premium price in India.
Get your hands on the new Samsung Galaxy S II is an Android 2.3 Gingerbread smartphone by watching this video…
[youtube]http://www.youtube.com/watch?v=oOxAh4I2jrk[/youtube]
– – – Specifications – – –
Model
Year Released
Form Factor
Operating System
Dimensions
Weight
Screen Size
Display Type
Battery
Bluetooth
Internal Memory
Extendable Memory
GPS
Camera/Video
Music Codecs Supported
Radio Transmitter
10.92cm (4.3) SUPER AMOLED Plus
Express your colour! This brilliant display delivers the best colouminimise r gamut, high contrast ratio as well as ultimate sharpness of image. Groundbreaking reduction of video response time provides the video playback without motion blur. The new technology uses less space and less energy, consuming 18% less energy than the previous display, making it one of the thinnest, longest lasting smartphone available. -10.84cm (4.27) in actual measurement
Dual Core Application Processor
Making the impossible possible. Samsung Dual Core Application Processor is the ultra responsive answer to mobile performance, providing high-speed multitasking, quick web page loading, quick reaction speeds, a smoother UI, lightning fast image editing and high performance gaming. And with its screaming fast encoding/decoding ability, which supports all (1080p/30fps) video playing and shooting, outshines the other dual core processors. Seamless video or music streaming gets a big boost with the super fast wireless standard HSPA 21Mbps. Outstanding computing power, outstanding performance.
8.49mm Slim Design
Taking slim to the next dimension. The Samsung GALAXY S II rides the leading edge with 8.49mm ultra-slim form factor, a luxurious design and an easy grip. One of the thinnest smartphones, GALAXY S II also features HyperSkin which provides premium metal look with fingerprint free and non slip battery cover.
Features :–
Say N Go : Samsung Voice Solution
Get vocal. Just double tap the home key and you can control the Samsung GALAXY S II with a few selected words. Take charge and execute major functions like calling, music, messaging, scheduling and launching apps with the ease of a voice command. You can also capture your thoughts, make a note to yourself and send it to your friends by simply saying send!
Social Hub 2.0
Organize and synchronise better all in your online contacts through Social Hub. Streamline your email, SMS, IM and SNS information into one unified box,and interact faster with more people in the way you want to.
Music Hub
Keep the music close. Samsung's new native music player provides an intuitive playback system to search, discover, preview, purchase and download tracks on the go. The app will also provide rich information on purchases, with access to all the artists, lyrics and reviews you desire. Get recommendations for new tracks and add to the excitement with bass enhancement and 5.1 channel sound.
8MP Camera with LED Flash
Get your shots in. The 8MP auto focus camera doesn't miss any details whether you're shooting idleness or action. Take beautiful, detailed photos even in low light with the built-in LED flash. And thanks to the much improved user interface of Android Gingerbread, fast scene switching is possible. And a quick switch to the 2MP front-facing camera makes self-portraits a snap. Picture the difference.
Microsoft Exchange ActiveSync
Optimised to securely access enterprise resources on a Microsoft Exchange server to stay up to date with your business email, calendar, contacts and task synchronisation, the Samsung GALAXY S II boasts the most comprehensive mobile implementation of Exchange ActiveSync. Providing the strongest security Mobile Device Management of any smart phone and the most policies and restrictions support among Android ActiveSync clients, it allows for real-time communication with employee phones to remotely configure settings, monitor compliance with policies, guarantee synchronised data safety and wipe or lock managed phones.
VPN (Virtual Private Network)
The Samsung GALAXY S II has adopted Cisco's AnyConnect to provide reliable and easy-to-deploy encrypted network connectivity by delivering persistent corporate access for users on the go. Whether providing access to business email, a virtual desktop session, or other Android applications, it enables business-critical application connectivity.
Readers Hub
Leave the bookshelf at home. the Samsung GALAXY S II has it in hand. Readers Hub is a great place to flip through your library of classics or browse for best sellers with over two million to choose from, but you'll also be able to set up some 2,500 magazines in 20 languages and 1,600 of newspapers in 47 languages for delivery. Crisp, sharp text makes reading a pleasure and easy to manage, with magnify, text only and page views, audio access, and more as well as one touch sharing via email. Believe in books, but look beyond paper.
Game Hub
Join in on the action. The Samsung GALAXY S II's Game Hub lets you to download high quality games, providing 12 social network games and 13 premium games including Gameloft's Let Golf 2 and Real Football 2011 Let's Search for games and new release information or play away. With an accelerometer, a magnetic sensor and gyroscope sensors dynamic hand and arm movement games stand out from the crowd. The slightest tilt and you're dead – now that's entertainment.
Samsung Live Panel
Content is King. Drop the apps and get direct access to your content through Samsung's new personalizable UX, a magazine style layout that selects contents that you use the most, your gallery, music, video, SNS, email, notes, games and weather then displays them on your main screen. This live content ecosystem can be customised to your taste and provides easy access to your contents. It updates in real time with all the information you desire from Music Hub, Readers Hub and Game Hub. Don't search for content, live it!
On Device Encryption
Play it safe with a security solution that enables the protection of mobile data without the need to sacrifice speed and functionality. The Samsung GALAXY S II is the first Android smartphone to adopt powerful encrypted hardware, minimising the use of security software and applying encryption technology to the hardware itself, greatly accelerating security protection and achieving superior performance. The incorporated Sybase Afaria Mobile Device Management and Microsoft Exchange ActiveSync complement the encryption support with their own mechanisms to secure important corporate and personal information
MDM (Mobile Device Management)
Wipe away your concerns. Sybase and Samsung are working together to address the management and security concerns commonly faced by enterprises when deploying Android devices. This partnership provides the comprehensive capabilities that It requires to allow mobile workers access to enterprise assets using the Samsung GALAXY S II. It can now confidently extend corporate security policies to the Samsung Android platform, allowing for the adoption of both personally owned and corporate owned GALAXY S II's.
Cisco WebEx
Stay on the same page and stay connected for important meetings on the go. With Cisco WebEx support, a secure, online meeting is just a click away. Users can view shared desktops, browsers, applications and documents with live annotations and feel the experience of deep integration with the Samsung GALAXY S II's exclusive feature to initiate a WebEx meeting from the dialer and contacts screens.