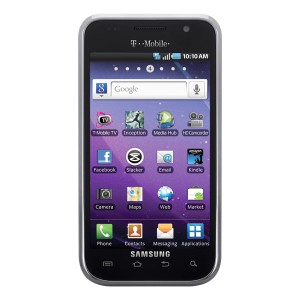 Faster Downloads, Uploads and Web Browsing at 4G Speeds
Video Chats without Buffering
1.0 GHz Processor for Accelerated Multitasking
Responsive and Brilliant Super AMOLED™ Display
– – – Specifications – – –
Model
Year Released
Form Factor
Operating System
Dimensions
Weight
Screen Size
Display Type
Battery
Bluetooth
Internal Memory
Extendable Memory
GPS
Camera/Video
Music Codecs Supported
Radio Transmitter
Faster Downloads, Uploads and Web Browsing at 4G Speeds
You're never without a range of instant and endless entertainment options when you have your Galaxy S™ 4G. Download and immediately start watching all your favorite movies and TV shows from the Samsung Media Hub. Video games and websites with Flash content are never a problem. With expandable memory of up to 32GB and a larger battery, you will easily have plenty of space and time to enjoy all your favorite pictures and media.
[youtube]http://www.youtube.com/watch?v=BCbNkCGaYGM[/youtube]
Video Chats without Buffering
Stay constantly connected with friends and family from practically anywhere, thanks to the front facing camera with QIK, the popular video chat app from Skype specifically for Android OS based devices. And there's no need for any buffering with T-Mobile's all new 4G network, perfect for video chats. The Galaxy S™ 4G's 5.0 Megapixel rear facing camera shoots sharp photos and HD videos with excellent resolution.
Green guides show you the way
In an effort to provide our customers with the latest in technology and the best user-experience, we've provided an new environmental-friendly alternative to a printed paper guide. Virtual Guides provide a "one-stop" support experience with everything from User Guides, Support Videos, Commercials, and Simulations. Take the our next step in going green.
1.0 GHz Processor for Accelerated Multitasking
The Galaxy S™ 4G comes equipped with a powerful 1.0GHz processor to keep all your apps and programs humming. Combine this lightning fast processing power with T-Mobile's 4G network, and you have a phone that's as speedy as it is smart. To kick-start your entertainment experience, your Galaxy S™ 4G comes with the hot new movie "INCEPTION" pre-loaded on a microSD for instant viewing!
Responsive and Brilliant Super AMOLED™ Display
With rich, vivid colors and brilliant detail, the large 4″ Super AMOLED™ display gives you a superior viewing experience of movies, videos, and gaming. And the screen is smooth and fluid to the touch when navigating between apps and websites. The Android 2.2 Froyo operating system is a new and improved Android platform, which transforms your device into a mobile hotspot, allows for Wi-Fi calling and has over 70,000 apps available at your fingertips.