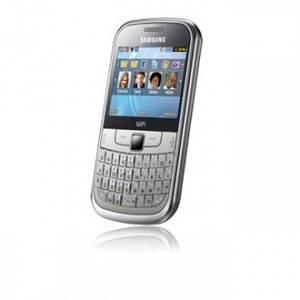 The Samsung chat 335 is the latest released Qwerty keyboard fitted phone, which has been designed especially for Social networking and instant messaging freaks, therefore it obviously holds number of exciting features including direct SNS apps, instant messenger and live messenger chat along with the other advanced features like 2.0 megapixel camera, Bluetooth connectivity, multiple codec playable media players, push email, FM radio etc. So, on the whole, the brand new Samsung chat 335 is going to be the perfect to pick option, if you are a true tech lover.
– – – Specifications – – –
Model
Year Released
Form Factor
Operating System
Dimensions
Weight
Screen Size
Display Type
Battery
Bluetooth
Internal Memory
Extendable Memory
GPS
Camera/Video
Music Codecs Supported
Radio Transmitter
Slim Premium Design
You will love showing off the strikingly slim QWERTY phone especially with its metal finish and fluid design. A timeless classic, the mobile also boasts a 6.096cm (2.4) LQVGA screen – making it easy for you to browse photos and read long emails
[youtube]http://www.youtube.com/watch?v=sgH-JuopAeo[/youtube]
Optical Trackpad
The optical joystick facilitates navigation when browsing the internet or exploring social networking sites. The mobile is able to recognise and differentiate between normal and fast sweeps so that you can scroll through photo albums or menu lists more quickly and conveniently.
Always Connected
You don't need to be tied down to a PC to stay connected. Wi-Fi provides access to the internet so you can stay up to date with SNS, email and more. You can also save money by chatting on BT Messenger with nearby friends. As well, Bluetooth and USB connect the mobile to PCs and other devices for fast and secure file transfers.
New QWERTY System
You will be able to type out long text easily thanks to the new and improved QWERTY keyboard. More PC-like, typing is more intuitive and easier than ever. You can program shortcuts into the QWERTY keyboard for fast access to favourite applications.
Enhanced Social Life
You will be able to stay in touch with their social circles. You can catch up with friends through instant messenger, social networking sites and through email. In addition, you will be able to choose from hundreds of applications to broaden the use of their mobile.
Upgraded Multimedia
You will be able to enjoy music entertainment without having to carry around a separate music player. Connecting favourite earphones, headphones or portable speakers is easy thanks to the 3.5mm audio jack. The mobile can also help identify news songs that users are interested in, and help them purchase the songs directly to the mobile. The embedded camera is always ready to take photos whenever a photo opportunity arises.