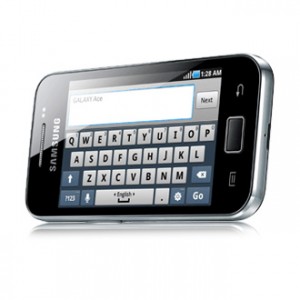 Samsung has announced the Android powered Galaxy Ace smartphone. It is designed for trendy and sociable young professionals. Samsung Galaxy Ace is a great smartphone and it might come out as a winner in the mid-range smartphone category, thanks to the large touchscreen display, Android 2.2 OS and its competitive pricing.
– – – Specifications – – –
Model
Year Released
Form Factor
Operating System
Dimensions
Weight
Screen Size
Display Type
Battery
Bluetooth
Internal Memory
Extendable Memory
GPS
Camera/Video
Music Codecs Supported
Radio Transmitter
Minimal Yet Sophisticated Design
GALAXY Ace takes a minimal approach in its design, resulting in a sophisticated mobile that will allure. The smooth rounded edges and slim, compact size are a pleasure to wrap your fingers around, just as the large 8.89cm (3.5) HVGA screen is a delight to watch.
A Market with Limitless Fun
With approximately 100,000 apps available on the Android Market, there's no end to what your mobile can do. Enjoy countless games, utilities, news, health and finance applications with more being added each day. The scope of what GALAXY Ace can do is virtually unlimited!
[youtube]http://www.youtube.com/watch?v=JAnfShoQZA0[/youtube]
Perfect Social Hub
GALAXY Ace offers a fully integrated one-page layout of your phone book, IM, email, and SNS. You can also organize and view your contacts according to four separate formats—Info, History, Activity and Media-so you can customize your layout just the way you want it.
Speedy Quicktype
GALAXY Ace features Quicktype by SWYPE, an intelligent interface that connects the dots made by your finger to figure out what you are trying to write. By moving your finger across the keypad from letter to letter in one fluid motion, the mobile senses exactly what you want to say!
ThinkFree
View, edit, and create Microsoft Word/Excel/Powerpoint documents with ThinkFre
Great Hardware for Great Performance
GALAXY Ace comes fully loaded with all I need for smooth web browsing, downloading and more. Equipped with a strong 800MHz processor and Wi-Fi, I can surf the web, download apps quickly, and share content with friends. Multitasking is a breeze, so we can have fun in all sorts of ways.
Voice Search
Voice Search allows you to speak your search queries instead of typing.