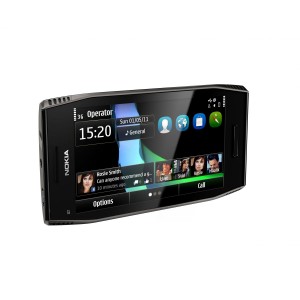 Nokia X7 introduces a new entertainment device for mobile gamers, both using the latest update of Symbian software.
– – – Specifications – – –
Model
Year Released
Form Factor
Operating System
Dimensions
Weight
Screen Size
Display Type
Battery
Bluetooth
Internal Memory
Extendable Memory
GPS
Camera/Video
Music Codecs Supported
Radio Transmitter
Big-screen entertainment
Experience all the thrills of high-definition gaming on the massive 4" touch screen. Enjoy the very best HD games from leading publishers – all available at Ovi Store. And when it comes to music, Nokia X7 has it all. Scroll smoothly through album art and control your tracks right from the home screen with one touch of the music app.
[youtube]http://www.youtube.com/watch?v=RDfNrX8j52I[/youtube]
A beautifully unique design
Nokia X7 takes smartphone design in a new direction to create something special and truly unique. The brushed stainless steel finish and distinctive lines bring a contemporary look and feel. But great design is about more than just looks. The gently curved body fits perfectly in your hand while the large 4" touch screen is ideal for viewing HD videos and full web pages.
Designed for staying in touch
Everything is ready straight out of the box with fully integrated email and social networks. For you this means real-time emails from your work and personal accounts direct to your home screen. You also get live Facebook and Twitter feeds 24/7 to keep you constantly up to date. Simply choose what's right for you.
Real-time emails and live updates 24/7
This is where it all begins. From day one your home screen is live and always up to date. New emails and instant messages, the latest Facebook and Twitter feeds, news headlines and much more – everything you need at a glance. And simply add shortcuts to the three customisable home screens to access even more of your favourite apps with one touch.
Discover more with Ovi
With Ovi you always know exactly what's happening around you. Instantly find the best of everything in your city – cafes, shops, hotels and much more. Millions of places reviewed and rated worldwide, with expert tips from Trip Advisor and Lonely Planet. And best of all, Nokia X7 comes with free lifetime walk and drive navigation including turn-by-turn voice guidance.
Experience much more from the web
Enjoy the best the web has to offer with Adobe Flash™ videos, animations and other interactive content right on your smartphone. And there's no need to wait around – the loading times are faster than ever. Plus the new and improved browser is incredibly easy to use. One swipe is all it takes to view or hide the search and address bar.
Instant access to CNN, BBC and more
Imagine being able to watch TV any time you like. On-demand Web TV gives you instant access to CNN, BBC, National Geographic and many other channels through a fast 3G or Wi-Fi connection. Add your favourites to the home screen and get automatic updates as soon as new content arrives. And download many more channels from around the world at Ovi Store.