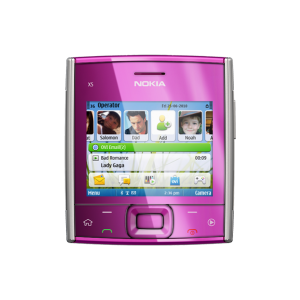 The new Nokia X5-01 is a highly Compact mobile phone with Slider QWERTY keypad. It is an eye-catching QWERTY phone with great music, messaging and social networking features. The phone is perfect for those who are looking for a business phone. The camera gives a super clear output and so are the other features of the phone. Messaging feature is said to be the best one. In simple words the Nokia X5-01 gives people value for their money.
Watch this pretty unique device and get to know the various features in this video by Nokia…
[youtube]http://www.youtube.com/watch?v=178itMFCE24[/youtube]
– – – Specifications – – –
Model
Year Released
Form Factor
Operating System
Dimensions
Weight
Screen Size
Display Type
Battery
Bluetooth
Internal Memory
Extendable Memory
GPS
Camera/Video
Music Codecs Supported
Radio Transmitter
Features :–
Music
Manage your music with the dedicated music key.
Play your music out loud with high-quality integrated speakers.
Store tracks on the included 2 GB microSD memory card.
Spin your phone to play a track at random with the Surprise Me! app.
Let Playlist DJ create playlists based on your mood or favourite songs.
Use Shazam to identify songs you don't recognise.
Messaging
Type messages quickly and comfortably using the full QWERTY keyboard.
Get emails from your Hotmail, Gmail and other personal accounts.
Chat with friends using your favourite instant messaging services.
Shake the phone to hear the number of unread messages you have.
Internet
Take the web with you – connect to the internet over 3.5G or Wi-Fi.
Stay in touch with friends through Facebook, MySpace and Twitter.
Watch YouTube™ videos within the browser without opening a separate player.
Design
Stand out from the crowd with its compact, square design.
Make a statement with bold, vibrant colours and a reflective finish.
See everything on the 2.36" landscape display.
Photos and video
Capture high-resolution photos and video with the 5 megapixel camera.
Take great photos with the LED flash.
Upload photos and videos to your favourite sharing services.
Ovi Services
Find new tracks at Ovi Music and simply download your favourites.
Get games, music apps and a whole lot more from Ovi Store.
Share your status and availability with friends using Ovi Contacts.
Stay in touch through Ovi Mail – your free email account from Nokia.