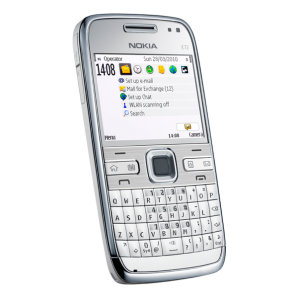 Nokia E72 is a high-performance device tailor-made for seamless business and personal communication. With its pure white finish, the Nokia E72 White Edition has a clean, modern design that is both elegant and distinctive. Nokia E72 White Edition also comes complete with matching white accessories which is quite simply the ultimate combination of beauty and intelligence.
Watch this video to get a complete view on the Nokia E72 while unboxing it…
[youtube]http://www.youtube.com/watch?v=rswLL6Bdd_Q[/youtube]
– – – Specifications – – –
Model
Year Released
Form Factor
Operating System
Dimensions
Weight
Screen Size
Display Type
Battery
Bluetooth
Internal Memory
Extendable Memory
GPS
Camera/Video
Music Codecs Supported
Radio Transmitter
Features :—
Messaging
Get work emails in real time with support for Mail for Exchange and IBM® Lotus Notes Traveler.
Access up to 10 personal email accounts instantly – Nokia Messaging supports Hotmail, Gmail, Yahoo! Mail, and many other services.
Manage your emails using the free Ovi Mail service – with 1 GB of storage for your messages.
Chat with friends and colleagues in real time through Windows Live Messenger, Google Talk and other leading instant messaging services.
Write messages efficiently and comfortably using the compact QWERTY keyboard.
Maps
Find the quickest route to your destination and get to that important meeting on time with preloaded Ovi Maps.
Get turn-by-turn voice instructions and detailed city guides as a part of your free lifetime navigation licence.
Discover nearby restaurants, landmarks, and other points of interest as you travel from place to place.
See your exact position on the map each step of the way with the integrated A-GPS receiver.
Ovi services
Check your email and chat with friends, family, and colleagues through the free web-based Ovi Mail service.
Enter Ovi Store and select from a wide range of great applications, games, wallpapers, and themes.
View detailed maps, check the weather and plan the perfect route through the Ovi Maps online service.
Find new music to inspire you as you work – Ovi Music store has millions of songs from the world's leading artists.
Performance
Work efficiently all day with the powerful, long-lasting battery.
Keep your work files and personal media stored on the included 4 GB memory card – or store more with support for up to 16 GB of expandable memory.
Connect securely to your corporate network from almost anywhere with the integrated Nokia Mobile VPN.
Read and edit work documents from any remote location with the preloaded Quick Office application.
Get online whenever and access a world of information and services with built-in 3G and Wi-Fi.
Design
Use the Optical Navi Key™ to scroll quickly and smoothly through documents and webpages – or as a one-touch autofocus key when capturing images.
Type a quick email, SMS, or note using the full QWERTY keyboard – built for fast, efficient messaging.
View work documents, corporate webpages, and detailed maps on the large display.
Make an impression – the slim, contemporary design with stainless-steel accents gives this device a unique look and feel.
Photos and video
Capture high-quality images and video using the 5 megapixel digital camera.
Get a sharper image every time by pressing the Optical Navi Key™ – your one-touch autofocus button.
Share your best photos and video clips via email, MMS, or a wireless Bluetooth connection.
Internet
Access the web quickly through a fast and reliable 3G network – or connect to a nearby Wi-Fi hot spot.
Connect to your favourite social networks to stay in touch with friends, family, and colleagues on the go.
Use the Optical Navi Key™ to scroll smoothly through rich webpages.
Applications
Receive and edit Microsoft Word, Excel and PowerPoint documents using the preloaded Quick Office application.
Coordinate your documents, photos, calendar and contacts using Ovi Sync – your Nokia E72 works seamlessly with your compatible computer.
Listen to your favourite tracks, create playlists and import music from your personal collection with Nokia Ovi Player.