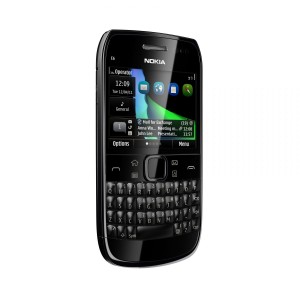 Nokia E6 – An ultra compact smartphone. Everything looks incredibly sharp on the full touch screen – plus you get a real QWERTY and a battery offering unbeatable power.
Ultra compact. Unbeatable battery life.
It all comes together in an ultra compact smartphone. Photos and web pages look incredibly sharp on the full-touch display – plus you also get a real QWERTY keyboard that's ideal for fast, one-handed typing.
– – – Specifications – – –
Model
Year Released
Form Factor
Operating System
Dimensions
Weight
Screen Size
Display Type
Battery
Bluetooth
Internal Memory
Extendable Memory
GPS
Camera/Video
Music Codecs Supported
Radio Transmitter
Nokia E6 may be small, but it offers unbeatable power with its long-lasting battery. So powerful you can talk throughout your workday or watch four movies without a break.
[youtube]http://www.youtube.com/watch?v=tL9EO3R_f_I[/youtube]
Introducing a smarter way to work
In business, opportunities can come at any time. Nokia E6 syncs with Microsoft Outlook to deliver real-time emails, contacts and calendar entries direct to your home screen – at no extra cost. And now you can be even more productive. Create, edit and share Word, Excel and PowerPoint docs on the go and get in touch with colleagues using Microsoft Communicator Mobile.
Designed for staying in touch
Everything is ready straight out of the box with fully integrated email and social networks. For you this means real-time emails from your work and personal accounts direct to your home screen. You also get live Facebook and Twitter feeds 24/7 to keep you constantly up to date. Simply choose what's right for you.
Real-time emails and live updates 24/7
This is where it all begins. From day one your home screen is live and always up to date. New emails, the latest Facebook and Twitter feeds, news headlines and much more – everything you need at a glance. And simply add shortcuts to the five customisable home screens to access even more of your favourite apps with one touch.
Discover more with Ovi
With Ovi you always know exactly what's happening around you. Instantly find the best of everything in your city – cafes, shops, hotels and much more. Millions of places reviewed and rated worldwide, with expert tips from Trip Advisor and Lonely Planet. And best of all, Nokia E6 comes with free lifetime walk and drive navigation including turn-by-turn voice guidance.
The best apps around from Ovi
Many of the best apps around come preloaded on your Nokia E6, like an app for Facebook and Twitter and apps for business, maps and more. But this is only the beginning. At Ovi Store there are apps for everything, from travel to messaging to the latest games – with more and more added every day. Apps that make life a bit better, a bit easier or just a bit more fun.