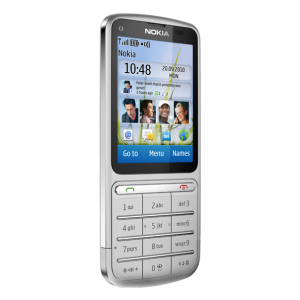 Nokia C3-01, according to Nokia, is a product designed as per demands of users, who wanted the functionality of touch as well as physical keys. And that's what the phone features, a 2.4 inch resistive touch screen along with a multitap keypad.
The phone looks very similar to what Nokia has been offering over the ages, a typical bar phone.
Watch the review of the Nokia C3 Touch and Type phone …..
[youtube]http://www.youtube.com/watch?v=ep_or1FVtSk[/youtube]
– – – Specifications – – –
Model
Year Released
Form Factor
Operating System
Dimensions
Weight
Screen Size
Display Type
Battery
Bluetooth
Internal Memory
Extendable Memory
GPS
Camera/Video
Music Codecs Supported
Radio Transmitter
Features :–
Touch screen and keypad
Go for a modern look – opt for modern looks with this touch and type device in a stainless steel casing.
Touch the screen to open apps, flip through photos and browse the web.
Type messages and notes easily using the keypad.
Use this compact phone comfortably with one hand.
Customisable home screen
Personalise your home screen with apps and contact shortcuts.
Call a friend, send an SMS or see status updates by selecting their picture.
Get feeds from Facebook and Twitter directly to your home screen.
Access your email, chat, calendar and music with dedicated widgets.
Customise by changing the background, theme and icons.
Easy email and messaging
Get emails instantly from Hotmail, Gmail and other personal accounts.
Start an instant message conversation with friends through Ovi Chat.
Say more with a picture by sending a multimedia message.
Send an SMS to a friend by touching their picture on your home screen.
Fast mobile internet and Wi-Fi
Get online when you need to through a fast 3.5G or Wi-Fi connection.
Access a world of information and services through the mobile browser.
Check Facebook easily for new messages, wall posts and status updates.
Post photos directly to Facebook for your friends and family to enjoy.
Browse millions of videos on YouTube and watch them at any time.
Mobile entertainment
Capture high-quality photos and videos with the 5 megapixel camera.
Take great photos night or day with the LED flash.
Enjoy your favourite songs and shows on the music player and FM radio.
Find new tracks at Ovi Music and simply download your favourites.
Download apps, games, videos and more at Ovi Store.