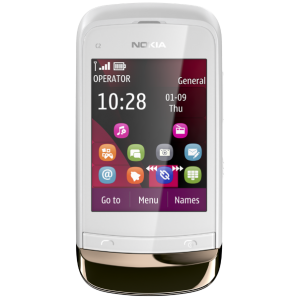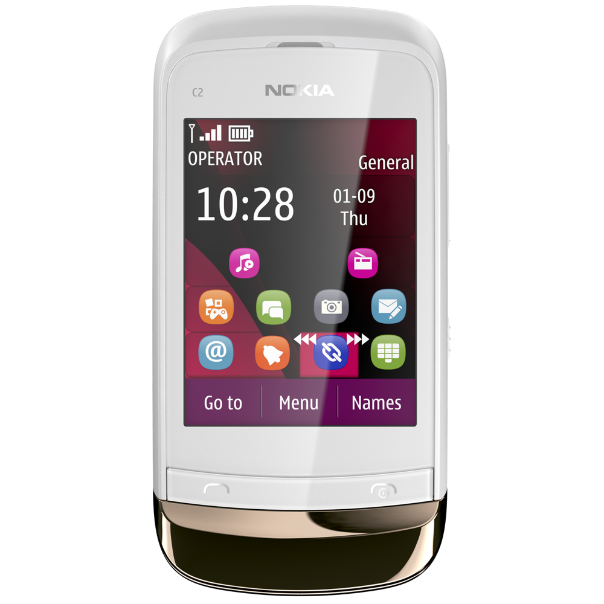 Nokia C2-02 comes with great apps such as Nokia Browser and Nokia Maps, so it's easy to check Facebook or find your way around town. Plus find many more fun and practical apps at the Store. Use your finger to scroll through websites, photos and music on the 2.6" display. And unlike many touch-screen phones, there's a slide-out keypad for fast, easy typing – just like you're used to.
Let your friends know what you're up to – send email through Hotmail, Gmail and others. Or see what's happening on Facebook and Twitter from the same view.
Watch the review video of the three low-cost touchscreen slider phones, the Nokia C2-02, C2-03 and C2-06 which come in dual-SIM and single-SIM models and offer excellent value…..
[youtube]http://www.youtube.com/watch?v=2uhFIv3i8ww[/youtube]
– – – Specifications – – –
Model
Year Released
Form Factor
Operating System
Dimensions
Weight
Screen Size
Display Type
Battery
Bluetooth
Internal Memory
Extendable Memory
GPS
Camera/Video
Music Codecs Supported
Radio Transmitter
Features :-
Touch screen and keypad
Touch the screen to open apps, flick through photos and browse the web.
Watch videos and see pictures on the 2.6'' QVGA display.
Slide open the keypad for fast, easy messaging.
Typing on the keypad is fast and
convenient – just like you're used to.
Get straight to your favourite apps with a simple swipe to the left or right of your home screen.
Internet and browsing
Save on data costs – the efficient Nokia Browser reduces the amount of data downloaded.
Web pages load faster than ever before, meaning less waiting time.
A handy web app catalogue helps you find your favourite websites and services.
Scroll through web pages and zoom in and out with your finger.
See web pages clearly on the 2.6″ colour display.
Apps and more
Get new apps at the Store, right from your phone – apps for messaging and more.
Put fun at your fingertips with the latest games for touch-screen phones.
Give your phone a personal touch – get lively ringtones, themes and more.
Check out the latest movie trailers, or get a video greeting to share.
Social networks and messaging
Check Facebook and Twitter updates easily from the same view.
Post photos and videos to your social networks for your friends to enjoy.
Get emails instantly from Hotmail, Gmail and other accounts.
Chat using Windows Messenger, Google Talk or other services.
Maps
You'll always have a map in your pocket with Nokia Maps on your phone.
Maps for your region are preloaded, saving you data download costs.
Plan the best walking or bike routes to places you want to visit.
Share your location with friends through MMS.
See what's nearby and find what you
need – restaurants, stores and more.
Music
Play your favourite tracks on the built-in MP3 player.
Simply touch the screen to play music, skip songs or change stations.
Enjoy music with friends on the powerful built-in 106 phon speaker.
Take hundreds of songs with you on the included 2 GB microSD memory card.
Tune in to music and news with the FM radio.