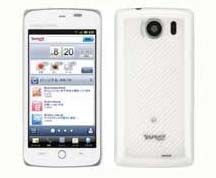 Yahoo Japan, which apparently is the largest website in Japan, and one of the largest online assets of Yahoo has recently announced a new smartphone for the market. This is an Android powered device which is a rebranded version of a Sharp manufactured smartphone.
Yahoo Japan has partnered with mobile carrier SoftBank who would be shipping the Yahoo Phone sometime in the end of September. The device is originally the Sharp AQUOS PHONE THE PREMIUM SoftBank 009SH however, it comes with some additional Yahoo integration.
The phone will be bundled with Yahoo services like Yahoo Japan Home, Yahoo Loco, Yahoo Japan Auctions, etc. and will also include the pre-loaded Android applications. All those who would purchase the phone will get two year of free Yahoo Japan premium membership.
In regards to the specifications, it runs Android 2.3 Gingerbread, has a 4-inch qHD display, an 8 megapixel camera, WiFi 802.11 b/g/n, Bluetooth 3.0, digital TV tuner, e-wallet functionality, infrared communication and a microSDHC card slot.
We are quite sure that the phone is going to stay exclusive to the Japanese market, however if it shows up elsewhere you will hear it from us.
[Source : The Times of India]