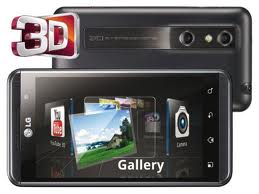 Korean manufacturer, LG has officially announced its LG Optimus 3D, their first glasses free 3D smartphone which was first revealed during the Mobile World Congress earlier this year.
The device is the latest addition to its famous Optimus series which also includes the dual-core powered LG Optimus 2X.

The device boasts a stereoscopic 3D display, which can deliver 3D content without the need of glasses.
It has a 4.3-inch display, 1080p HD video playback in 2D while 720p HD video playback in 3D, realtime 2D to 3D conversion for photos and videos, 3D augmented reality browser, HDMI port and DLNA capabilities.
The hardware was not detailed much in the press release however it is expected that the device would be powered by a dual-core 1GHz ARM Cortex A9 processor and supported by a PowerVR SGX540 GPU.
It is a Android 2.3 Gingerbread based device and it will first hit the European market and will be followed in 60 market around the world over the next several weeks.
[Source : The Times of India]