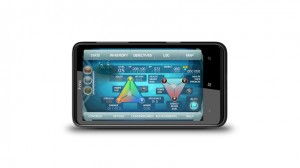 HTC HD7 is a slim and attractive phone that works over Microsoft Windows Phone 7 and Qualcomm Snapdragon QSD8250 1 GHz Processor. Based on the HTC Desire form factor the Phone is very sleek and quite sturdy in hand. The big fascia, curved, smooth back, solid look and feel of the HTC HD7 all come together nicely. The phone comes pre-loaded with Netflix, Slacker and T-Mobile TV.
Watch this video review of the HTC HD7 Windows 7 smartphone ….
[youtube]http://www.youtube.com/watch?v=A3x–PuqzQY[/youtube]
– – – Specifications – – –
Model
Year Released
Form Factor
Operating System
Dimensions
Weight
Screen Size
Display Type
Battery
Bluetooth
Internal Memory
Extendable Memory
GPS
Camera/Video
Music Codecs Supported
Radio Transmitter
Features :–
Cinematic experience
The big 4.3" high resolution screen gives an epic cinematic experience. Just flip out the kickstand, kick back and catch all the magic of your favorite movies and videos.
Break time is music time
Take a break and tune into some … tunes. The HTC HD7 gives you a high fidelity sound for a richer listening experience. The secret sauce is SRS WOW HD™ — bringing virtual surround sound to your mobile.
Make your own movies in HD
The HTC HD7 comes with an 720p HD camcorder which allows you to capture film with incredible quality and detail. It's ideal for turning your friends and family into stars.
Explore great apps within HTC Hub
·         Center of attention
Get more from your phone with an app from us. The HTC Hub incorporates the weather in rich 3D and offers a selection of apps specifically designed to optimize your HTC smartphone experience.
·         Picture perfect
Enhance your photos with one touch. A selection of effects help you create unique photographic masterpieces. Use the auto-enhance preset to adjust color and brightness for the perfect picture.
·         High fidelity sound
The Sound Enhancer app delivers virtual surround sound and equalizer sound effects for a richer listening and viewing experience. Equalizer presets automatically mix bass, treble and vocal levels for maximum effect, whatever your type of music.
·         Know when to cash out
Stay on top of the market with up-to-date finance information. The Stocks app lets you view stock prices and check indices. Define up to 30 stocks and track their progress. Rotate to view charts in full-screen detail.
·         Something to note?
Create and manage your notes in a visually fun and practical way. With the Notes app you can post and arrange your notes on a bulletin board, then see them wrinkle and age over time. To view them in a list, just swipe and turn the board over.
·         Love me? Love me not?
Does the object of your affections love you – or not? Find out with this fun app. Choose your favorite flower, then pluck the petals one by one. Or shake your phone and watch them fall. The last petal tells all.
·         RING… ring… hush
Ever fumbled with your phone because it went off at full-blast during a meeting? Well, don't worry! Now as soon as you lift your phone up to see who's calling, the ringer volume gets lower. Want it silenced completely? Just flip it over. No more awkward moments.
·         See in the dark
The Flashlight app turns your phone into an LED flashlight with 3 brightness levels. It even flashes an SOS signal in case of emergency.
·         Centimeters to inches, pounds to kilos
Convert distances, weights, temperature and more, all within a single screen. The free Converter app also converts currency at current rates refreshed from the web. You can even personalize the settings, depending on what you convert most.
·         Wonder at weather
Rain, hail or shine – you'll find the weather app in the HTC Hub, presenting the weather in a rich 3D animation, forecasts for your location or other cities, and lets you know exactly what to expect.